Presenting the first Sophie Award winner!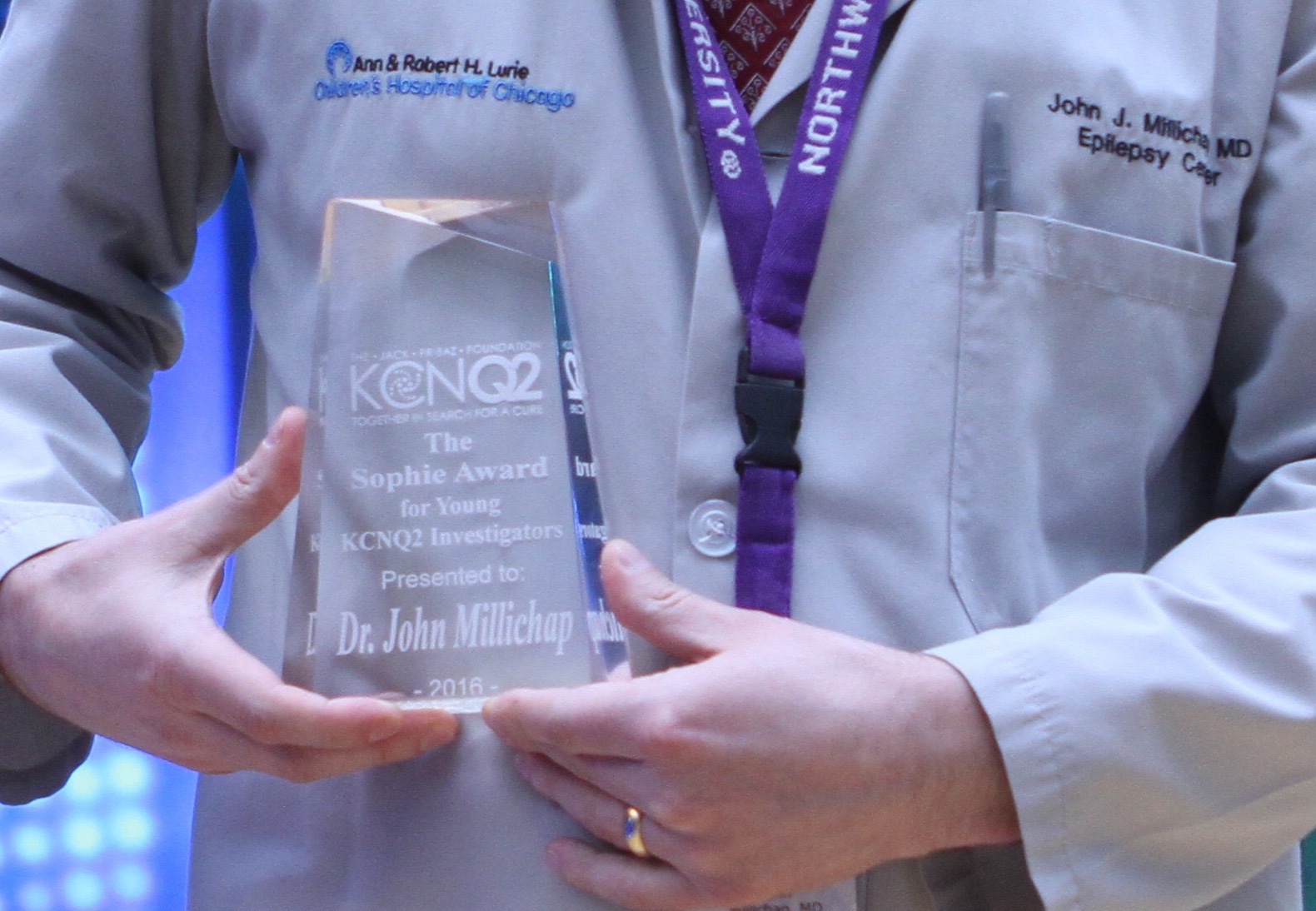 The Jack Pribaz Foundation was proud to present the inaugural Sophie Award for Young KCNQ2 Investigators to Dr. John Millichap. The $15,000 prize is designed to support and encourage research of KCNQ2-related epilepsy and encephalopathy.
Dr. Millichap is an attending physician in the Neurology and Epilepsy Center at the Ann and Robert H. Lurie Children's Hospital in Chicago and Assistant Professor of Pediatrics and Neurology, Northwestern University Feinberg School of Medicine. The Jack Pribaz Foundation chose Dr. Millichap to receive the award for his dedication to bridging bench science and clinical application and for his contributions to the medical literature.
"At the heart of any pediatric medical research there is always a family who needs a champion to fight for their child," said Mike Pribaz, President of the Foundation and one of the directors of the Board. "We are proud to honor Dr. Millichap with this award for his efforts to identify new patients with KCNQ2 mutations and to educate the medical community throughout the world about this rare condition. Dr. Millichap is a champion for the entire KCNQ2 family and the larger community of pediatric neurology."
"I accept this award with pride and a sense of excitement," said Dr. Millichap. "It's amazing to see how far we've come in such a short time. There's tremendous momentum in this field of study and a vibrant international community of researchers and patient advocates to work with."
The Jack Pribaz Foundation established the Sophie Award in honor of a child named Sophie who passed away from complications of the disease. The aim of the award is to inspire the next generation of KCNQ2 researchers. Young investigators are encouraged to learn more about the Award and how to be nominated for consideration of future Sophie Awards.
A huge thank you to all the JPF donors whose generosity makes such moments–and such important work in KCNQ2 and rare epilepsy research–possible. We are truly Together in Search for a Cure!
Want to support KCNQ2 research through the Sophie Award? Click here to donate.